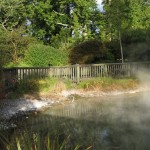 Tuesday kicked off with an unintentional two hour sleep in. Somehow during the night, my phone had decided that it had returned to Sydney and had adjusted its timezone accordingly. All well and good, except that we are very much still in New Zealand and had intended to be on the road by 9am. Never mind, our host was very gracious in not charging us extra money for checking out late and we sped off down the road to the Black Water Rafting Company HQ.
Once outfitted in a squishy wetsuit and squishy boots, it was kind of impossible to carry a camera around. So sadly, I haven't got a whole lot of pictures from Waitomo Caves. Nonetheless, rafting through the pitch black water with glow-worms above for a couple of hours was an awesome experience. Lept backward off a couple of waterfalls, even!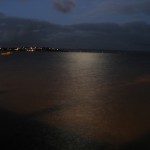 Next stop was Rotorua, about 3 hours drive away. It's definitely a scented town, though not overpoweringly so. We spent the late afternoon taking some photos of the various steaming pools and whatnot dotted around Kuirau park in town. Spicy Indian dinner, tasty followup icecream and a walk to the moonlit lake finished off one very full day.
In the morning, we grabbed brekky and then headed pretty much straight for Orakei Korako a rather impressive thermal area about halfway to Taupo. Orange thermal goo, boiling mud pools and gushing geysers. Pretty much the whole thermal thing in one place. I got some pretty pictures and video, the majority of which I'll upload when I get back.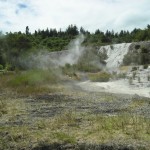 After Orakei Korako, we visited the Craters of the Moon, another thermal area which came into being when the authorities were messing around building geothermal power stations and whatnot, altering the groundwater and creating a new thermal tourist attraction somewhat by accident. The signs around the place tactfully avoided mentioning this fact. "Being that the Craters of the Moon is a fairly recent geothermal site, it has no particular Maori significance," one of them read.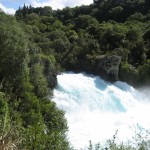 Huka Falls next stop, something like 160 cubic meters per second of water pouring through a gap about 10 meters wide with a 10 meter fall. Definitely something which was felt as much as seen. We finished up the day with a dip in Lake Taupo to cool off. I don't think I've ever swum in fresh water which was so amazingly clean and clear.
We stayed in Tiki Lodge in Taupo last night, an oddly soulless place filled with bare walls and doors with passive-aggressive signs about not slamming them and not drinking. Curious.
Anyway, I'll save today's activities for a later post. Toodles!