(aka stay down, US dollar!)
I'm going to NYC in a couple of weeks, which is very exciting. What is also exciting is that the USD is, um, not doing so great. Many folks have been talking about the Aussie dollar being particularly strong, but I'm not convinced. Here is a picture to illustrate why I'm not convinced: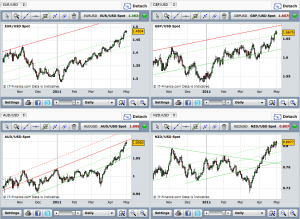 I mean, the Aussie's not doing too badly, but … yeah. There you have it.
Now stay down there! I want to buy things!