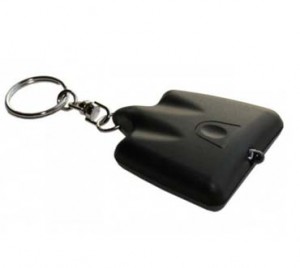 I got on a really good rant on Friday night about how distracting televisions are in pubs. I'm not talking about TVs showing a football game that everyone's into and getting rowdy about. I mean those terrible little ones, tucked away in a corner with the sound turned down having no effect other than to distract you with moving images.
I'm not sure if this is a problem you're faced with, but I'm really distracted by moving pictures. Maybe it's a short attention span, or maybe it's a natural magnetism to anything technological but having a TV in eyeshot really ruins my conversational abilities.
In a fit of pique, I tracked down this cool little toy called a TV-B-Gone and ordered it. In about a week or two, I'll be sure to carry this keychain size toy with me to the pub to turn the goddamn televisions off. I'll let you know how it goes. I don't reckon anyone will even notice me turning them off, though I do plan to be discreet enough to avoid getting beaten up. You just never know how turning off music video clips that have no sound might enrage people.