Last night I had the pleasure of performing a little surgery on my laptop. Thanks to the instructions at ExtremeTech, I managed to get the whole thing done inside of about half an hour. There weren't even any leftover screws! Here's what the inside looks like (thanks ExtremeTech):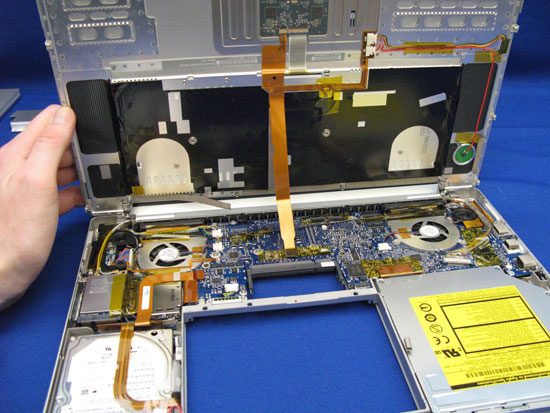 Most interestingly, I've been using an external 2.5″ hard drive with Time Machine for the past few months for peace of mind. I really couldn't be bothered doing a fresh install of MacOS and reinstalling all my software so I just restored my Time Machine backup straight onto the new drive. Bloody impressive – about 5 clicks and a couple of hours later my laptop looked exactly like it did before I gutted it – all software working, all files restored.
So the specs now? Core 2 Duo 2.4GHz, 4GB DDR2 RAM, 500GB HDD and geForce 8600M CPU. Not far away from the brand new ones!