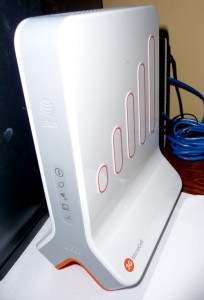 Last week, AT&T in the US began making these brilliant little devices to my right available to selected areas. Wondering what it is? It's an AT&T 3G Microcell – your own personal 3G base station with backhaul provided by your broadband internet connection. It provides coverage of up to 500 square meters!
For a flat rental fee each month, you can register up to 10 phones of which 4 can be used on the cell simultaneously. When voice calls are placed using the Microcell, they aren't counted toward your monthly allowance of calls. The device provides high speed data to your mobile phone too.
I really think that devices like these highlight the dying gasps of that old communication relic of the 20th century, the landline. When every house member can use their mobile to call for a flat rate when within range of their home 3G cell, the idea of calling a location will finally give way entirely to the notion of calling a person.
I reckon this thing is sheer genius. As long as issues of interference and bandwidth could be worked out, I don't see why we couldn't deploy something like this here in Australia. I'd love one – much of my house sees just one bar of GSM coverage despite living 10 minutes drive from the city center. Same with my friends' place, 5 minutes down the road. Thoughts? Would you get one – if it cost the same or slightly less than fixed line rental per month?